Before & After
Logan River Academy's effect on students can be felt beyond their stay at the campus, as shown in the parental feedback we have collected. Our students' families are the ones who notice the changes exhibited by their children once they return home, move to a less restrictive school, or become independent.
The success of any treatment program depends on the improvement of the lives of their students in the long run. Changes manifested when the student returns home and begins interacting with their loved ones, especially their parents is a critical indicator of success.
Through Logan River Academy's residential, clinical, and academic programs, your children are given the tools they need to cope with the pressures in their lives. By applying the lessons they have learned, they have the chance to become well-adjusted and to get their lives back on track.
Before & After
Since the beginning, Logan River Academy has been dedicated to being a premier residential treatment facility. A major factor in evaluating our quality of care is measured by the satisfaction of the families we work with. The following results were conducted by Logan River Academy using responses from parents of discharged students to evaluate the level of success their child has reached and maintained. A Likert scale was used in the questionnaire ranging from 1 to 5; 1 being the progress of the student greatly deteriorated and 5 being the student greatly improved. Parental input is essential in evaluating the success of youth treatment centers. We extend our gratitude to all parents that took part in the survey.
Overall, do you feel that your son/daughter benefited from their stay at Logan River Academy
Positive Comments from Parents
— "LRA worked wonders for our son. I think it allowed the distance from home and perspective he needed to change his self-destructive behaviors. Staff was tremendous in identifying the issues and creating the change."
— "My daughter benefited greatly from LRA. I have my daughter back!"
— "LRA staff did a fabulous job of breaking down the walls my daughter had built up to protect herself."
— "We are so pleased with our daughter's outcome. She has grown into a loving, caring, kind and polite young lady. Her attitude about school, family, life is so positive and delightful. Simply put, she is a joy and pleasure to be around."
— "LRA really worked for my son. He was suicidal before and struggled with adoption issues. My son is now whole, fun, happy and appropriate. LRA was able to get to his roots and fill his emptiness."
— "Our daughter's treatment at LRA literally saved her life."
— "Your school and staff are miracle workers! My son has been home 14 months now, an he is such a pleasure to be around."
Negative Comments from Parents
— "I don't fault LRA for my son's problems. He was given the tools he needed, but has not used the tools and has made bad choices."
— "He was given the opportunity to get clean, stay clean and excel in life. He has chosen not to."

Relationships With Family & Interpersonal Relationships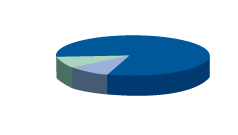 Less than 4 in 100 parents reported a great deterioration in their relationship with their son/daughter
83% of parents stated that there were improvements regarding family relationships
Less than 2% reported a great deterioration in their child's interpersonal relationships.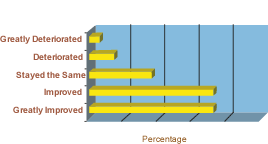 Comments
— "We have our 'moments' but we are in a much better situation, we have boundaries and we have a real family where there is respect."
— "My son has been home 14 months now, and he is such a pleasure to be around."
— "Our family relationships have never been better."
Sobriety
More than half of all parents whose child was treated for substance abuse reported a great improvement in the level of sobriety.
Less than 4 in 25 reported a deterioration in their level of sobriety.
Nearly 75% had improvement in their level of sobriety.

Comments
— "My son has been clean and sober for 2 years, 7 months. He learned so much at LRA. He learned to recognize his inattention, his need for attention and his need for excitement and channel all of that in positive ways."
Self-Esteem
3 out of 4 improved or greatly improved their self-esteem.
Less than 4 in 100 reported a great deterioration in their self-esteem.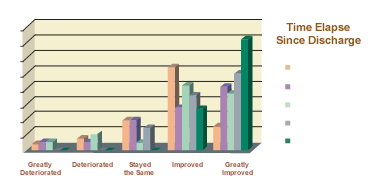 Comments
— "He's turning into a fine young man, with increasing self respect, manners and concept of self. While there are still a few rough edges, the good parts dramatically outweigh the remaining few rough edges, and I feel that the rough edges will also smooth over."
Academic Performance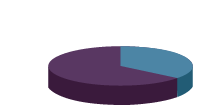 Nearly 2/3 improved in their academic performance.
64% went on to receive a post high school education.
24% stayed the same (note – not all students who attended LRA had pre-existing academic concerns).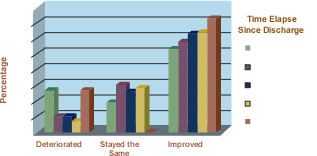 Comments
— "We were pleased with the academic program that provided structure and encouragement for our son to finally be successful after years of negative experiences at school."
— "She was on the honor roll this past semester and she was failing school before she came to LRA."
— "My son did graduate high school but I am certain he would not have had he not spent time catching up at LRA."
Identifying / Solving Problems & Dealing with Life's Challenges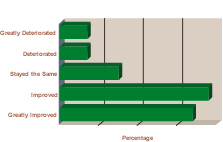 Comments
— "His therapist helped him to develop tools for conflict resolution,
and a respect for positive and negative consequences."
— "LRA has definitely helped her to
see that life choices are hers to make
and her future hinges on them."
— "He can handle his anger, and discuss areas of disagreement in an effort to come to a working solution."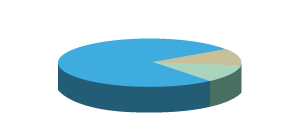 More than 3/4 showed improvement in their ability to identify and solve problems.
72% reported their child's ability to deal with life's challenges improved.
Involvement in Appropriate Social Activities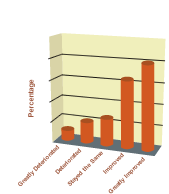 40% greatly improved their involvement in appropriate social activities.
72% improved or greatly improved in this area.
Comments
— "She's working full time this summer and doing healthy activities. She's happy and says she's in a really good place."
— "Although we still have our issues with him, I find them to be more of the same issues that my other friends have with their young adult children and since he has returned from LRA, I no longer worry about his reckless behavior that was a constant in our lives."